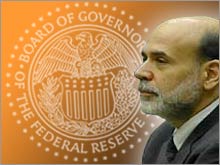 WASHINGTON, DC — Ben Bernanke announced in a press release today that the Federal Reserve will experiment with a new method of setting the money supply as well as the federal funds rate. Every week Bernanke will present the fiscal pros and cons on various changes to monetary policy, after which the public will have the opportunity to make the final decision via phone-in vote.
"This will be open market monetary policy at it's most democratic," said Bernanke, who admitted to coming up with the idea during last season's American Idol finale.
Unlike the presidential election, the phone-in voting allows those most interested in the outcome to vote as many times as they like. All of DC is watching this latest move. Success for the Fed could mean phone-in voting across all levels of government.
There has been no word on whether or not Bernanke will sing and/or dance prior to opening up the phone lines for voting.